Why choose 2 Brothers Heating & Cooling LLC?
Our company specializes in exceptional residential service, at a reasonable price for the home owner.
 We also provide Light Commercial service.
Peace of Mind
When we give you a price proposal,
 that is what you pay… no surprises!
Affordable Quality
Don't assume that you cannot afford to get the heating and cooling solution that you need, talk with us first, we are good at figuring out options that will fit your budget. You can call, text, or email with any questions you might have.



The Golden Rule
We are a small family business, built on the foundation of treating our customers as we would like to be treated.
Getting it right
Whether you need heating or cooling, our goal is to provide you perfect comfort in an energy efficient way.
To ensure energy efficiency, we perform Residential Load Calculations, so that the equipment installed is correctly sized for your residence. Your heating and cooling system should be efficient, without being oversized. Bigger is not better, right-sized is your goal. Many houses actually have larger equipment than needed, which results in short-cycling and energy waste, thus costing you more money, as well as less than optimal functioning.
The best way to accurately size HVAC equipment for your needs is to apply the 'Manual J' protocol, which was developed to perform precise load calculations to determine how much heating and cooling a house actually needs. Such calculations used to be done with pen, paper, and a slide rule, and required a lot of time to calculate correctly. Many companies still only make guesstimates as to the equipment sizing for your home. Two Brothers Heating & Cooling uses 'Manual J' load software, because determining the correct load sizing is very important for the homeowner.
Our Services:
Gas & Electric Furnaces
Gas Inserts / fireplaces
Gas Line
Ductless mini-splits
Heat pumps
HRV'S
Air Conditioning
Tankless Water Heaters
Duct Design
Duct Repair
Ventilation
Service and Repair of most equipment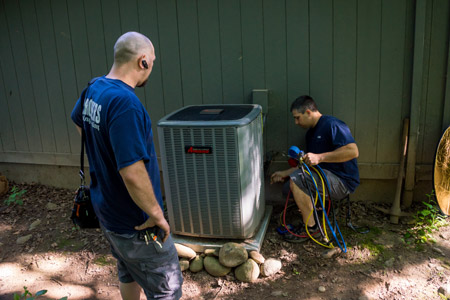 Troubleshooting
Is your furnace suddenly just blowing cold air? Is your air conditioner needing service? If your HVAC system is no longer providing perfect comfort, it's time to call us.
Do-it-yourselfers
2 Brothers is happy to help you get answers to your DIY questions. If you think you can do it yourself (but perhaps want to ask a professional for advice) we are here, 
and glad to help.
Service area
We serve the greater Portland area. Our service area includes (but is not limited to) the cities of Oregon City, Happy Valley, West Linn, Lake Oswego, Tigard, Beaverton, Tualatin, Sherwood, Wilsonville, Canby, Eastmoreland, Westmoreland, Sellwood, Mt. Tabor, Sunnyside.. If you don't see your city or community listed, give us a call or send us a message.